Once again, thank you to all the competitors, coaches, and volunteers who participated in our event several weeks ago. The planning committee would also like to take a moment to again thank our sponsors again:
All Japan Budogu          Kinsho – Unique Kendo Tsuba
Aoi Budogu                   Kohtoku Enterprise, Inc
e-Bogu.com                  Maruyama Kendo Supply
The tournament showcased some world class kendo and was an overall success! That being said, we know there is always room for improvement and as such, we would appreciate any feedback you may have! Please take a few minutes to fill out our survey and tell us how we can make the 7th North American Women's Taikai even better!
We hope to see all of those who competed again in 2019 as well as some new faces. Start planning now and as always, if you have any questions, comments, or concerns, contact us at womenskendotaikai (a) gmail.com.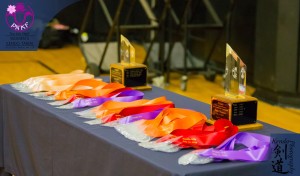 Team
1st place – PNKF-1 (J.DeJong, E.DeJong, N.Grimes, E.Marsten, A.Nakayama)
2nd place – SWKIF-1 (H.Dang, A.Darrah, D.Verastigue, N.Arnal, A.Adachi)
3rd place – SCKO 1 (Y.Saito, J.Kuo, I.Lorimer, N.Harigai, H.Hsueh)
3rd place – PNKF-2 (M.Blechschmidt, M.DeJong, J.Frazier-Day, J.Chen, M.Rinaldi)
Individual Mudansha
1st place – Maya Blechschmidt
2nd place – Binah Yeung, PNKF
3rd place – Sizhou Zou, SCKO
3rd place – Lucy Tan, SWKIF
Individual Yudansha
1st place – Yuko Saito, SCKO
2nd place – Ai Nakayama, PNKF
3rd place – Wendy Robillard, CKF
3rd place – Minako Harigai, SCKO
4th place – Isabel Lorimer, SCKO
4th place – Noelle Grimes, PNKF
4th place – Juneko Kurahashi, CKF
4th place – Elizabeth Marsten, PNKF
View the FULL Excel results for match by match, point by point action here!
Team Round Robin, Single Elimination and Bracket
Mudansha Individuals
Yudansha Individuals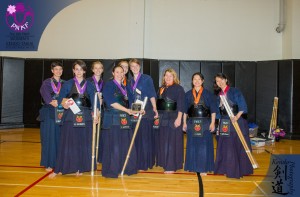 In keeping with our tradition of choosing unusual colors for our commemorative tenagui, we bring you the 2016 color of orange-y pink!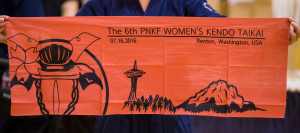 All women's taikai participants will receive a complimentary tenagui with their registration at the taikai. If you'd like to purchase one ($10), we'll have them for sale at the taikai on July 16th or you can email in your order to learnkendo@gmail.com ahead of time.
We accept cash or check. Cards accepted via PayPal, but are subject to a small convenience fee either online or onsite at the taikai.
If you won't be at the event and would like it mailed to you, we can do that, as long as you're willing to pay the shipping.
Check out the shop for more details.
Seminar Information:
In addition to the tournament there will be a weeklong seminar and practice for women only, July 9 to July 14, with godo keiko on Friday July 15.
Our guest instructor this year will be Chinatsu Murayama Sensei, Renshi 7 Dan, 5-time All Japan Women's Kendo Champion.
Seminar Fee:
$50 for full seminar or $20 for Saturday and $15 per day for all other days.
All participants must be 14 years of age or older and sign the waiver form. (If you already submitted a waiver form for the tournament, you do not need to sign another for the seminar) .

Read the rest of this entry »
It's official! Saturday, July 16th 2016 will be the 6th North American Women's Kendo Championships. Same location, Renton Community Center, next to the Quality Inn in Renton, WA. We did try and find another venue up north and little more downtown Seattle friendly, but it wasn't meant to be. The tentative plan for the seminar preceding the taikai is the same, with a start date the Saturday before (Bitterlake Community Center Annex, Sno-King Kendo Club HQ) as the primary location for practice.
The guest instructor is still being worked out, stay tuned for more details as they come in, including online signups and payment options, sponsorship opportunities and moving the after party to an offsite (nearby) venue.