In keeping with our tradition of choosing unusual colors for our commemorative tenagui, we bring you the 2016 color of orange-y pink!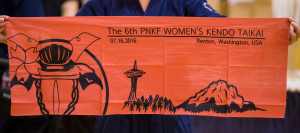 All women's taikai participants will receive a complimentary tenagui with their registration at the taikai. If you'd like to purchase one ($10), we'll have them for sale at the taikai on July 16th or you can email in your order to learnkendo@gmail.com ahead of time.
We accept cash or check. Cards accepted via PayPal, but are subject to a small convenience fee either online or onsite at the taikai.
If you won't be at the event and would like it mailed to you, we can do that, as long as you're willing to pay the shipping.
Check out the shop for more details.
Did you enjoy this post? Why not leave a comment below and continue the conversation, or subscribe to my feed and get articles like this delivered automatically to your feed reader.