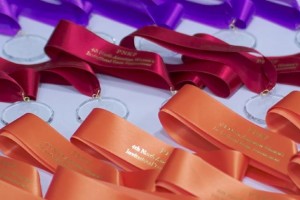 This article was originally printed in KendoWorld, Volume 6.1, December, 2011 and appears here courtesy of KendoWorld.
The Pacific Northwest Kendo Federation's North American Women's Taikai is the official (and a mouthful of a title) tournament started in 2001 by Jeff Marsten Sensei (7dan, kyoshi) and is held every 3 years in the greater Seattle area. We in the PNKF lovingly refer to it as "chicks with sticks" or by "the women's taikai."
Why & Who?
PNKF has a long history in the promotion of women in kendo and was the first federation (the Washington State Kendo Federation) in the United States to create a women's division back in the 1970's. This tournament's creation was due to a perceived lack of women's activities in USA kendo outside of major events like the national championships or the WKC which only affects and can be participated in by a small fraction of the population. The women's taikai is meant not only to be more encompassing by including our Canadian neighbors, but Hawaii and Mexico as well- any federation or dojo in North America that wants to enter has been welcomed. Don't let the name fool you, if you're in the middle of France and want to come, the door is open. We want to encourage women who do kendo as a hobby or sport, which also means- no professionals.
That's right, no cops, gym teachers or coaches.
In addition to the taikai there is a week long seminar prior to the taikai that is open to any women that wish to take part in it for a small fee (approx. $50 USD). The fee covers the expenses of the guest sensei, brought in and chosen specifically for their shiai abilities but also for their role in the promotion and encouragement of women in kendo.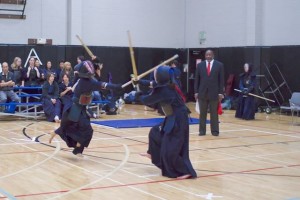 The History
At first, the ladies of PNKF tried various fund raising activities to generate the funds needed for the large cost of bringing over and hosting a guest sensei and taikai costs, that have ranged from selling kendo equipment at anime conventions, car washes, rummage sales and candy bar sales. The tournament began by being funded through the ladies themselves with some seed money from the PNKF to be paid back through fund raising and taikai entry fees. Over the years the PNKF officially adopted the event and it continually operates at cost, with seminar fees replacing fundraising activities and donations from members of the PNKF and surrounding areas. (The ladies of the PNKF much prefer the seminar fee to washing a stranger's car it turns out.) The guest instructor receives home stay for the week of the seminar and a hotel suite the night before and after the taikai, serving as the guest of honor at the taikai and at the post-taikai party.
The Instructors
Each instructor is carefully chosen, they are shiai specialists to come in and keiko with each and every participant along with providing coaching during shiai matches over the week.
The instructors work with the PNKF Women's Team coach to determine the seminar schedule, topics to be covered and to keep an open dialogue on what the seminar participants need, how they are doing and how to adjust for that at each practice. PNKF has had the honor of hosting Senseis: Mayumi Otsuka (6D) 2001, Kumiko Hoshina (7D) 2004, Mark Grivas (7D) 2007, Mayumi Katsura (6D) 2010.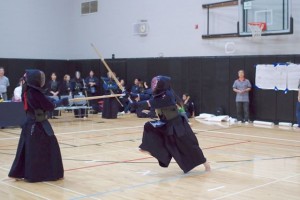 The Men
The men (not just in PNKF) look forward to this event every 3 years just as much as the ladies do. They serve as court staff throughout the day for the event and are in charge of various duties like kitchen staff, party coordinators, keg tapping and serving or clean up and set up crews. Most, if not all, stay afterwards to attend the after party. PNKF has yet to have a shortage of volunteers for this event.
The Shimpan
The shimpan are hand picked not only from within PNKF, but also Canada, Hawaii and from visiting sensei that come with their respective women's teams. Each shimpan must be at least 4dan or above and are arranged in groups that rotate between courts. A shimpan assigned to Court A will do a round of 6 matches on Court A, then move to Court B. This way, a point on Court A is the same as a point on Court B and the shimpan remain fresh and consistent throughout the day.
The Tournament Format
The women's taikai is focused on as being a team event, so the team competition goes first instead of individuals. 5 person teams can borrow up to 2 players and can enter as a federation or a dojo. Teams start in round robin pools of 3-4 and are seated into these pools by past records, team composition and geographic location. (Teams submit their initial line ups ahead of time, but can change them up throughout the day as needed.)
Once the round robin is complete the top two teams come out and go into single elimination round brackets. The championship team gets to take home the perpetual trophy donated by Jeff Marsten sensei for the next 3 years.
PNKF tries to get every woman that wants to be on a team, on one. Individuals or federations without enough players can submit requests ahead of time that they would like to be placed on a team o have a spot to be filled. Once all the spots are filled, if there are enough singles, an entire mixed team will be formed.
For individuals, there are two divisions, kyu and dan. The individual event takes place after a lunch break and is single elimination with players being seated ahead of time by win records, rank and geography.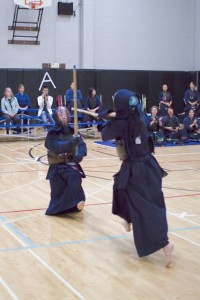 The Little Things
In order to make it a "fun" women's tournament, we not only put the men to work for the day but strive to bring in small touches to really make it a memorable event for the ladies. This includes working with the awards place to provide unusual or pretty trophies, plaques or medals every time. The 2010 taikai awarded cut glass medals etched with the taikai details strung on bright colored ribbons picked out in a slightly more unique palette. Brilliant purple for 1st, bright red for 2nd, white for 3rd and peach for 4th. PNKF has also brought in tournament sponsors like Phiten USA, Eguchi Kendo and Maruyama Kendo in the past who have donated prizes to award winners in the form of product or gift certificates.
PNKF has also started a commemorative tenagui for the event, with each competitor receiving one as a keepsake. The 2010 tenagui was chosen to be a bright purple due to the fact that most tenagui from taikais are white/black or navy blue. And there is of course, the after party. Party goers donate throughout the day into a "drinks" fund which often includes a keg from a local brewery, various bottled spirits and beers picked up by PNKF members. PNKF members also provide a pot luck style dinner for all out of town participants to enjoy.
If you'd like more information on the taikai, its' history, past winners, format or just on how you could come yourself, visit: www.womenskendo.com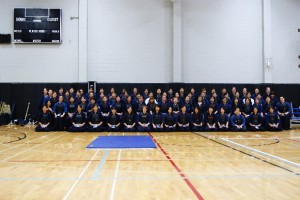 Did you enjoy this post? Why not leave a comment below and continue the conversation, or subscribe to my feed and get articles like this delivered automatically to your feed reader.